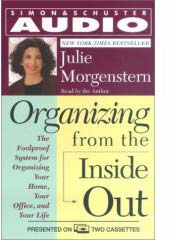 Organizing from the Inside Out: The Foolproof System for Organizing Your Home, Your Office, and Your Life [ABRIDGED] [AUDIOBOOK] (Audio CD)
Veteran professional organizer Julie Morgenstern offers a fresh, insightful approach to the organizing process- by sharing the secrets and techniques she has used for nearly a decade with clients nationwide. Organizing from the inside out - designing a system based on your life goals, natural habits and psychological needs - ensures, once and for all, a system that won't break down.
In Parts One and Two, Morgenstern demystifies the process of getting organized by showing you just what has been holding you back. She explains the basic steps - analyze, strategize, attack - to use on every organizing project, no matter how big or small, and shares tricks of the trade for avoiding common pitfalls. In Parts Three and Four, Morgenstern shows how to apply these steps to every area of your life and work including offices, home offices, mobile offices, bathrooms, closets, kitchens, kid's rooms, garages, schedules and technology.
Other books on the subject tend to focus solely on tips and gloss over the psychological issues and practical challenges we all face in our efforts to conquer chaos. Organizing from the Inside Out goes straight to the heart of the matter and teaches you how to work with your personality rather than against it to achieve the results you are looking for. Morgenstern believes organizing is a completely learnable skill, and offers the reader a total reeducation of the organizing process. Designed as a permanent reference book for the 21st century, you can read and re-read its pages to master the fundamental principals of organizing anything in a practical, effective and long lasting way.
Organizing from the Inside Out will be a welcome handbook for corporate executives, professionals, entrepreneurs, working parents, secretaries, teachers, students, senior citizens, homeowners, and apartment dwellers - anyone facing an overwhelming amount of clutter, who doesn't know where to start.
"This is a valuable, much-needed book. It's immensely readable and empowering… making a wonderful gift for those who need to improve their organizational skills at home or at work."
~ Linda Sapadin, Ph.D.
Author of It's About Time and The Six Styles of Procrastination
"Organizing from the Inside Out is destined to become a benchmark book for the organizing industry as well as the general public. I will be recommending this book as a must read to my clients and colleagues."
~ Gloria Ritter,
President, National Association of Professional Organizers
"I heard you interviewed on NPR a few months ago and ran out and bought your book. I have a whole collection of "organizing" books but yours is the first that actually helped. I think your idea of thinking before doing is the real trick. At any rate, my life is beginning to change as I get more control of my environment. I wanted to write to thank you for writing your book."
~ Jeanne Geiger Brown
"Thank you! Thank you! Thank you! Organizing from the Inside Out has not only helped my organize my physical space, it's changed the whole way I look at myself. All those years I thought I was a hopeless slob and the queen of clutter, I was really a basically neat person struggling with a series of systems that just didn't work FOR ME. 50 years of chaos is taking some time to work my way through, but now that I'm doing it with myself instead of working against my inclinations, I find that all things are possible. I'm beginning to wonder what other things I 'always knew' about my own limitations are wrong, as well. VERY liberating, if a little bit scary at times. A million thanks."
~ Sarah Goodman